Referrer surveys as the basis for effective referrer relationship management
A large proportion of hospital admissions are based on the recommendation of a physician in private practice. The deciding factor here is often the experience doctors have with the hospital in the course of their cooperation.
The perspective of the referring physicians gives you insights into further quality indicators beyond clinical pathways, such as information flows, consistency of internal organizational structures and co-operation processes.
Goals of the referral surveys
We would like to support you with the referrer survey as a tool to definitively identify the strengths and weaknesses of these collaborations with your referring physicians. The results are intended to create a foundation to identify improvement potential for the entire quality management and thus lay the foundation for efficient referral relationship management.
Conducting referrer surveys
Interviews are conducted using the scientifically based Picker method.
Basic elements include:
Postal, anonymous survey
Event-oriented questioning
Problem-oriented presentation of results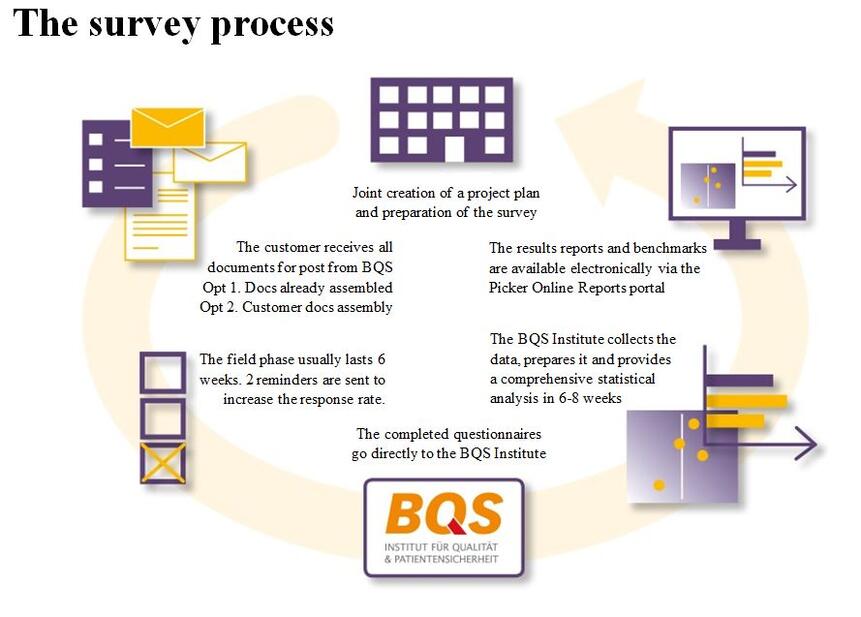 Online referrer surveys
In addition to the traditional paper-based version, an online version is also available for the Picker Referral Survey. To take into account the media preferences of your referring physicians, both mediums are combined.

Conducting the online survey differs from the paper version only in that the referring physicians are contacted by e-mail and can participate in the survey via a web portal. The advantages include how simple it is to complete, the resulting high data quality and the cost savings for your facility.
Results of the referral surveys
Thanks to our extensive benchmark database, you can benefit from valuable comparative reports and benchmarking. We offer detailed comparison reports based on your individual information needs.

For example, you can compare the proportion of negative referrer feedbacks at department or hospital level with other facilities. We also provide you with priority matrices that show which survey topics are particularly important from the referring physicians' point of view.

From these displays, you can see at a glance the areas where action is needed.
Picker Online Reports
For results provision we use our unique reporting system Picker Online Reports. With this web-based system, you can flexibly access your personal account via the Internet to retrieve and download your result reports. As part of an extended user license, you can benefit from a wide range of design and filtering options, create additional users, and create and process your own reports.

Call us; we will be happy to create a trial account for you.
Picker Referrer Questionnaire
Would you like to learn more about surveys using the Picker method?
... or planning a referral survey for your hospital? Then contact us. We will be happy to support you in the planning, implementation and follow-up of the survey.

Get in touch with:

Christina Tjaden
Marketing and Sales

Phone: +49 40 2540 7884 
E-mail: christina.tjaden@bqs.de